Close High Abdominal Belt
€13.00 €4.17
€11.66 €4.17
Universal Knee Brace With Rom Adjustment
Availability:
ONLY FEW IN STOCK
Description
4Range
UNIVERSAL KNEE BRACE WITH ROM ADJUSTMENT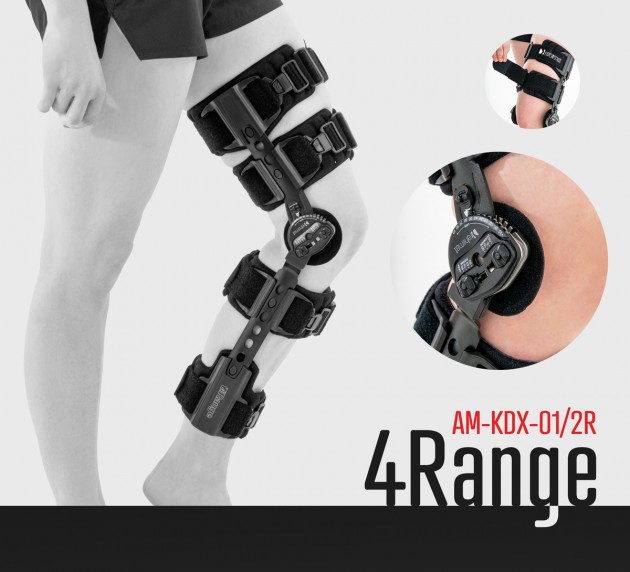 Knee arthroscopy
Arthroscopy allows to see the joint from the inside and gives most information than others. In diagnostic, doctor can take a joint fluid samples or a little bone to analysis. Later, doctor can provide therapeutic arthroscopy.
Anterior Cruciate Ligament (ACL) is the common reason of knee arthroscopy. The ACL ligament plays the role of drawer syndrome and rotation tibia control and knee joint proprioception. ACL surgery provides knee stabilization, perception and neuromuscular control1.
Sometimes, diagnostic arthroscopy is essential to insert special optic instrument into joint that allows to see the inside of the knee. During this arthroscopy the small fragments are cleared.
After surgery the knee is immobilized in special po-op knee brace. In the frist day, the patient can walk only with crutches with off-loading the leg. When the surgical drains are removed, the leg can be load a little. The ACL grafts take after 8-10 months, but the walking is possible earlier, but the rehabilitation is necessary from the beginning. Minimum, for the first 3 months the post-op after surgery knee brace is necessary.
Product description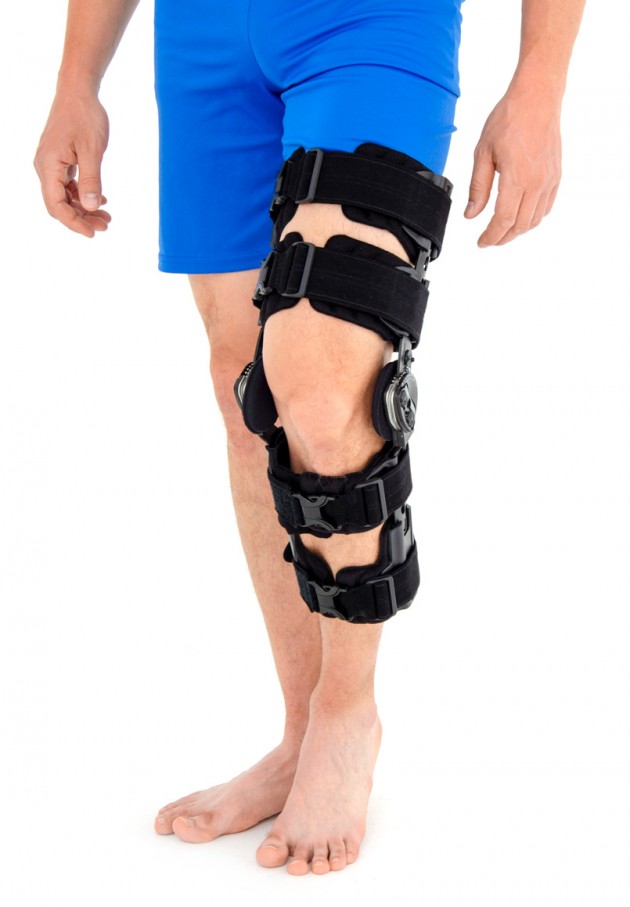 Our universal post-op after surgery knee brace with ROM adjustment 4Range it the best solution after surgery. Our knee brace is very light, openwork device that improves patient's comfort. The brace is equipped with two 1-axial splints 1X.  The drop-lock provides ROM adjustment in every 10 degrees without any tools.
In addition, the length of splints are adjusted that knee brace has universal size.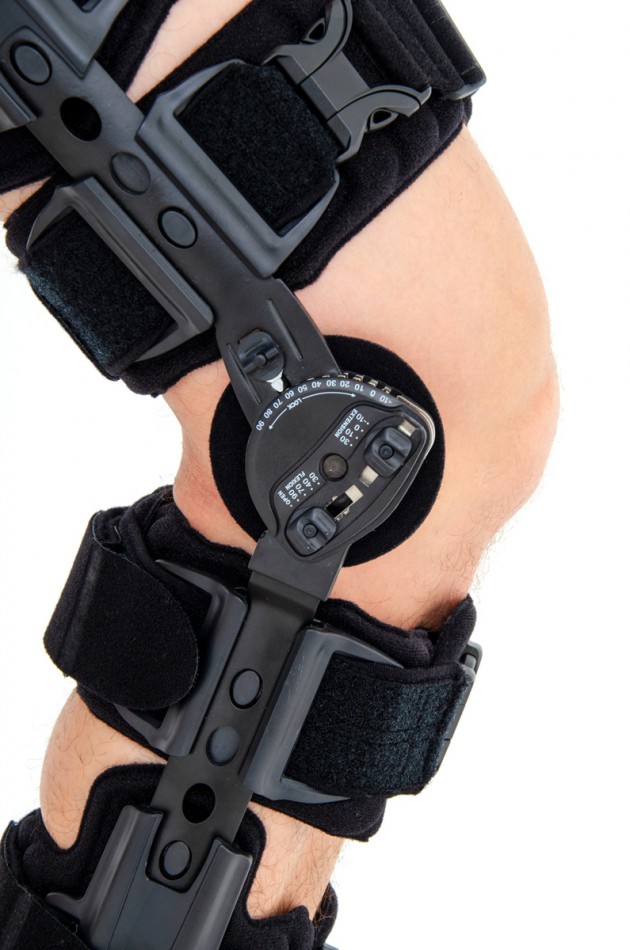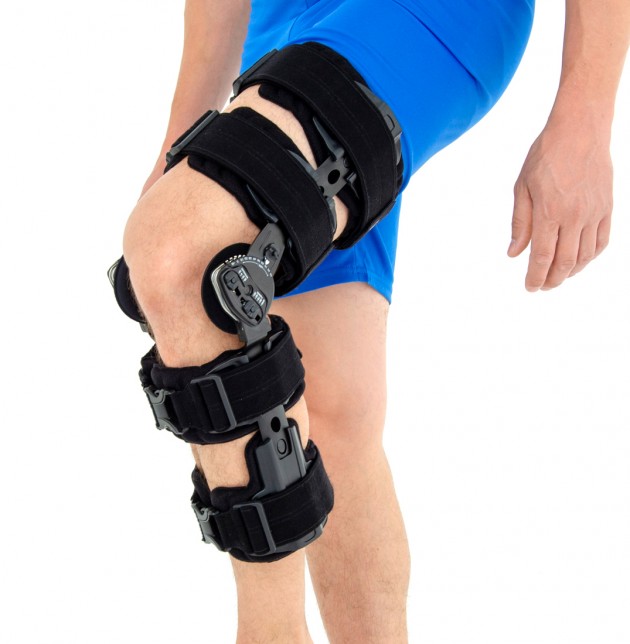 The device is equipped with soft pellotes with silicone that prevents against the slipping the brace off. The VELCRO tapes provide effective and excellent joint stabilization. Our po-op knee brace is easy to adjust even in patients with thigh and calf disproportions.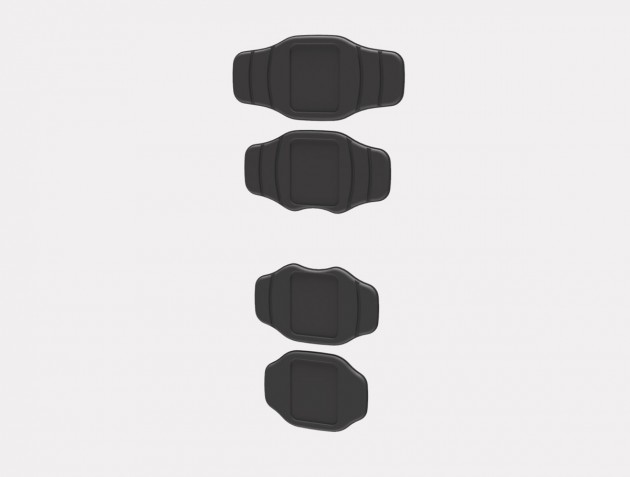 Our 4Range knee brace has system of frontal fast fastening what improves brace functionality and comfort of use.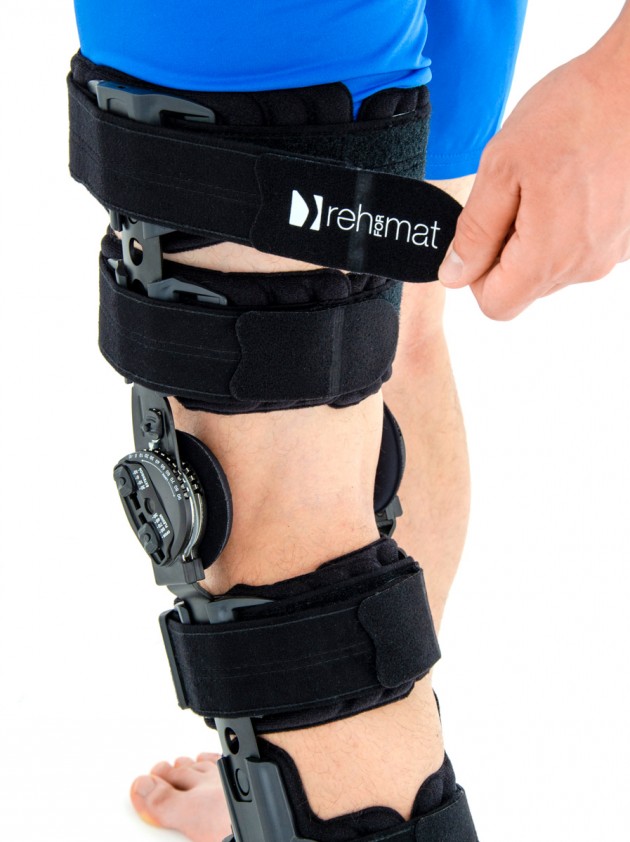 Our post-op knee brace is for both legs and has universal size.
The product is made of Active3D™.
Active3D™ is thermoformed fabric made of special foamed, cell-closed designed material. It reduces the pressure on the body or any abrasions made by orthopaedic stays and aluminum splints. It is fully waterproof fabric and does not absorb sweat. It's easy to clean. Due to its features, the fabric is an excellent product for making medical orthopaedic braces and orthoses. ACTIVE 3D™ has various external self-gripping layers. Our material has special, thermoformed properties and may be shaped according to the functional goals of the final braces.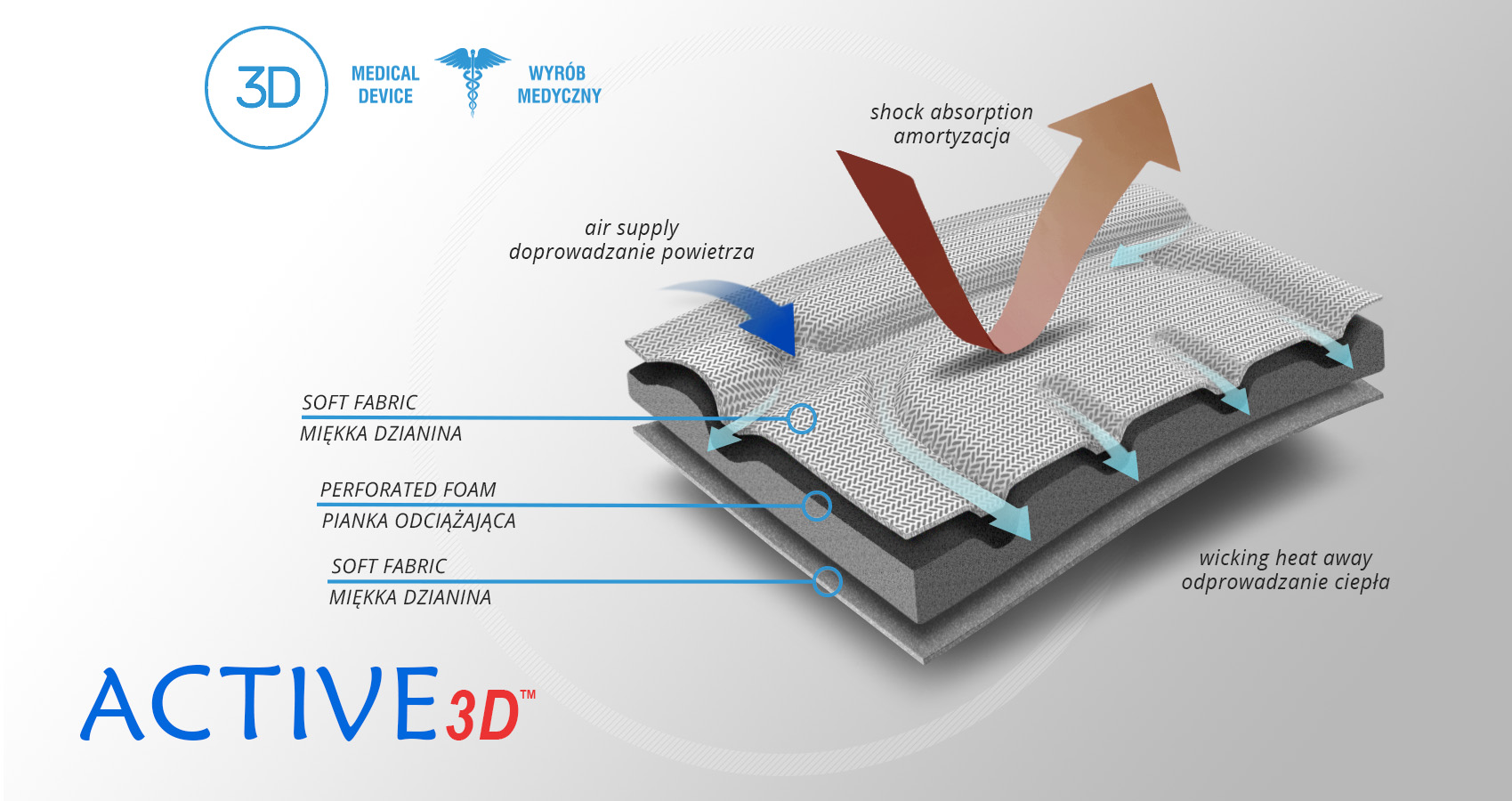 Purpose of use
- ligaments injuries (ACL)
- knee arthroscopy
- ligaments reconstruction/replacement (ACL)
- meniscus reconstruction
Size table
Size
(A) Thigh circumference 15 cm above the center of the patella
(B) Calf circumference 15 cm below the center of the patella
(C) Distance between knee joint interstice and groin
(D) Distance between knee joint interstice and shin
How to measure
Uniwersalny
min 40 –
max 75 cm
min 15,7″ – max 29,5″
min 30 –
max 60 cm
min 11,8″ – max 23,6″
min 22 –
max 27 cm
min 8,7″ – max 10,7″
min 26 –
max 35 cm
min 10,2″ – max 13,8″
Total length of product:
min 48 cm – max 62 cm (min 18,9″ cm – max 24,4″ cm)
Fits for both legs
MiniMax principle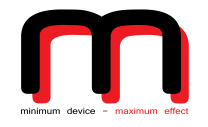 MiniMax is the first principle of REH4MAT that focuses on maximum effect in minimum device. Designing of our braces, we focus heavily on their effectiveness where, aside from functionality, the size of braces is significant. Unique constructions of our devices provide maximum safety and protection with little sizes. It allows to use comfortably our braces in sport shoes or under clothes.
Shipping costs The price does not include any possible payment costs
Product reviews (0)