€11.66 €4.17
Close High Abdominal Belt
€13.00 €4.17
Universal Hip Abduction Brace – Vipermax
Availability:
OUT OF STOCK
Description
VIPERmax
UNIVERSAL HIP ABDUCTION BRACE
HIP REPLACEMENT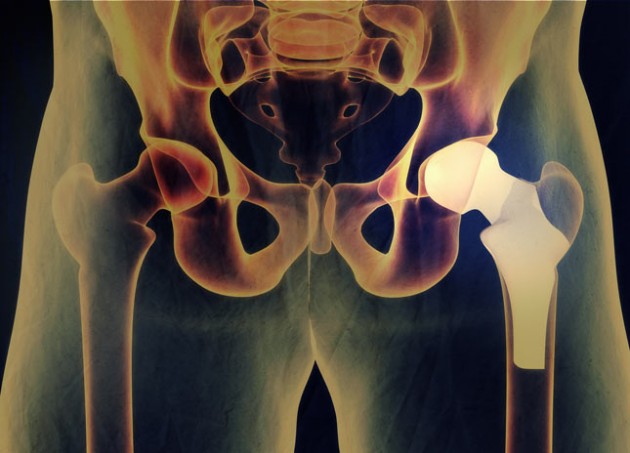 Hip replacement surgery is a procedure in which a doctor surgically removes a painful hip joint with arthritis and replaces it with an artificial joint often made from metal and plastic components. This surgery is often the only way to relieve the pain and improve the walking. After procedure, patient should keep upright position the very next day. Unfortunately, up to 12 months after hip replacement surgery, pivoting or twisting on the involved leg should be avoided. Patient should also not cross the involved leg past the midline of the body nor turn the involved leg inward and you should not bend at the hip past 90 degrees. All of these activities may damage the "new joint" and another hip replacement could be necessary. To ensure safety, patient should consider using our hip abduction brace VIPERmax with innovative lower limb abduction system "Hip Joint Control Flex".
Product description
VIPERmax is an universal hip brace with control of flexion/extension and abduction/adduction. The brace is designed with MiniMax principle (maximum effect in minimum device). Due to innovative construction the brace provides maximum safety and protection with little sizes.
Our hip brace VIPERmax is made of ActiveDistance, equipped with soft universal abdominal and thigh bands and anatomic shaped monocentric splint with ROM adjustment.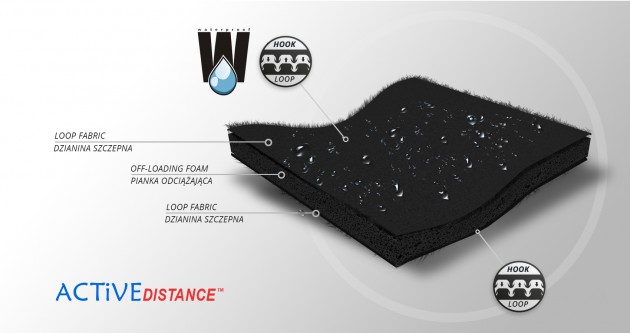 ActivDistance is 3-layered lamination, made of comfort foam and 2 non-elastic polyamide layers. ActivDistance is not elastic what improves stabilization. The  foam inside makes our fabric very soft and comfortable. Our fabric is self-gripping in both sides, so you can fit our devices perfectly.
In the soft, abdominal and thigh part we used special ABS plastic elements with Velcro straps. The splint is equipped with innovative Press-slide system which provides smooth full length adjustment. Our hip brace VIPERmax maintains required hip position, reinforces the joint and provides po-op control. It's excellent solution for improving the gait pattern and treat the muscles contractures. The fast and easy adjustment provides full anatomical flexion/extension and adduction/abduction control. Before limit the hip motion, consult your doctor.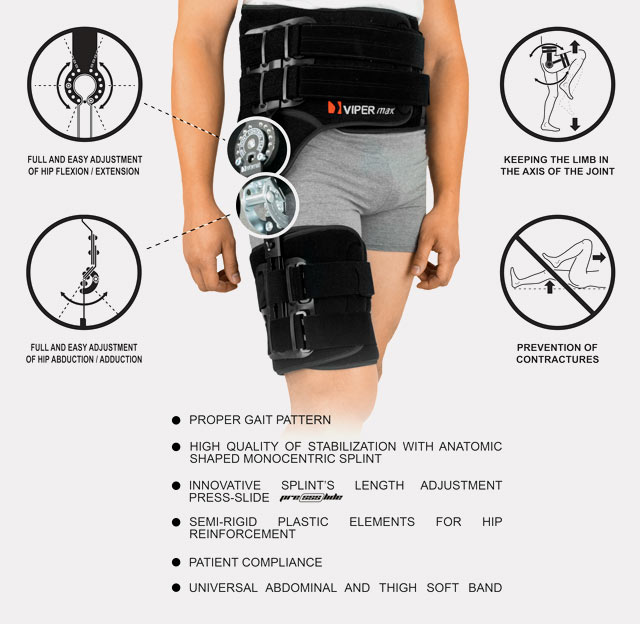 Purpose of use
1. After hip joint replacement – endoprosthesoplasty
2. Hip dislocation or Potential High Risk Dislocation
3. Hip displasia (anterior/posterior)
4. Osteoarthrosis (also known as Osteoarthritis)
5. Coxarthrosis
6. Hip joint instability
7. Post-Operative
8. Pre-Operative
9. Hip immobilization
10. Muscles contractures
Available sizes
Size
Waist circumference
How to measure
Universal
min 75 – max 125 cm
(29,5″ – 49,2″)
Size
Thigh circumference 5 cm below the groin
How to measure
Universal
min 40 cm – max 70 cm
(min 15,7″ – max 27,6″)
Right and left hip specific
Total length of product:
min: 54 cm (21,3″)
max: 68 cm (26,8″)
Press-slide System – Regulation of the length of splint

Press-slide system is the another technological newness in our offer that we would like to introduce to You with a great pleasure. The regulator of the length of splint Press-slide is the element of orthopaedic braces, designed especially according to the innovative rule – MiniMax (minimum choice, maximum effect). That is why, orthopaedic devices equipped with Press-slide system may be characterized by small dimensions, very low weight and significant ergonomics of usage. What is more, the system was engineered to facilitate the extension or the shortening of the splint to the patient in the most easy and safe way. Press-slide was made of special kind of plastic strengthened by fiberglass and thanks to that solution its durability is much more noticeable than in case of aluminium. The regulation of splints is very easy – you just need to press the special button and regulate the splint so that it would be fully comfortable for you. To make that activity easier, on the surface of the lower limb splints we placed the centimeter scale that defines the distance between knee joint and the end of thigh splint and shin splint. Regarding upper limb braces, we placed the scale that simplifies the repeatable splint regulation.
MiniMax principle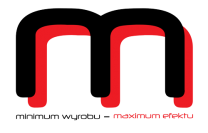 MiniMax is the first principle of REH4MAT that focuses on maximum effect in minimum device. Designing of our braces, we focus heavily on their effectiveness where, aside from functionality, the size of braces is significant. Unique constructions of our devices provide maximum safety and protection with little sizes. It allows to use comfortably our braces in sport shoes or under clothes.
Product reviews (0)