Close High Abdominal Belt
€13.00 €4.17
€11.66 €4.17
Positioning Strap Orthosis
Description
STROKE
POSITIONING STRAP ORTHOSIS
Stroke
Stroke is a "brain attack" which can affect everyone at any place and anytime. When this happens, brain cells are deprived of oxygen and glucose and begin to die. The lack of fast, medical intervention can result in brain damage and death.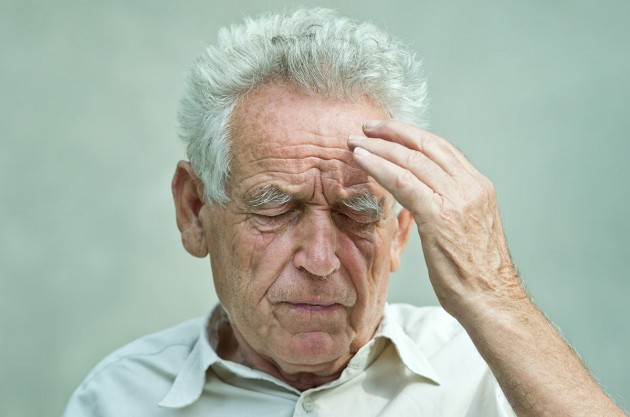 There are 2 types of stroke:
1. Ischemic stroke – a blood vessel carrying blood to the brain is blocked by a blood clot (ischemic) is one type of stroke. Also, ischemic stroke is common in case of high cholesterol and fat level. Approx. 80% all strokes include ischemic type.
2. Hemorrhagic stroke – A hemorrhagic stroke is either a brain aneurysm burst or a weakened blood vessel leak. Blood spills into or around the brain and creates swelling and pressure, damaging cells and tissue in the brain.
How to recognize stroke?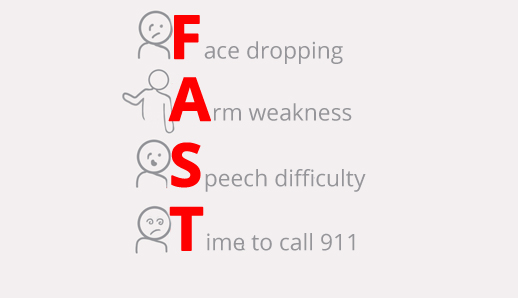 Stroke By The Numbers: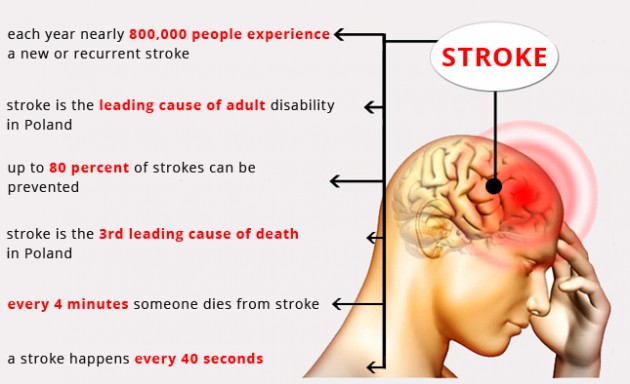 POSTSTROKE SPASTICITY
After a dozen days afer stroke, we can observe first spasticity symptoms which affect half of body finally. Blocked messages between muscles and the brain causing arm and leg muscles to cramp or spasm (spasticity), kind of like a bad charley horse. This will limit your coordination and muscle movement. Similar difficulties are common in case of other brain injuries and amyotrophic lateral sclerosis (ALS).
In case of post-stroke spasticity, there is the most frequent pattern in the upper limb: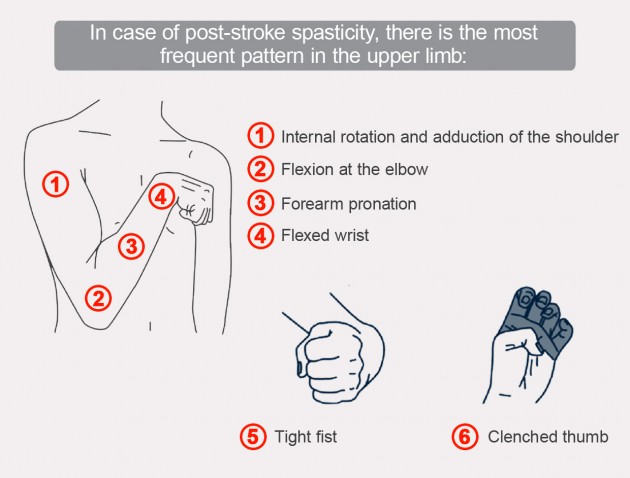 Maintaining post stroke pattern causes upper limb immobilization and disability. Initial period of shock immediately after stroke results in flaccid paralysis. After few weeks it changes into spasticity gradually.
To prevent against this bad upper limb pattern we launched new unique product – excellent positioning strap orthosis STROKE. This orthosis should be applied after stroke immediately in every patient.
Product's description
Upper limb positioning strap orthosis STROKE is an effective positioning product for the flaccid arm after stroke. The orthosis keeps upper limb in functional position for maintaining memory nerve and muscle system. With our strap orthosis post stroke rehabilitation is fast and effective. STROKE orthosis prevents against the upper limb spasticity and patient self-care.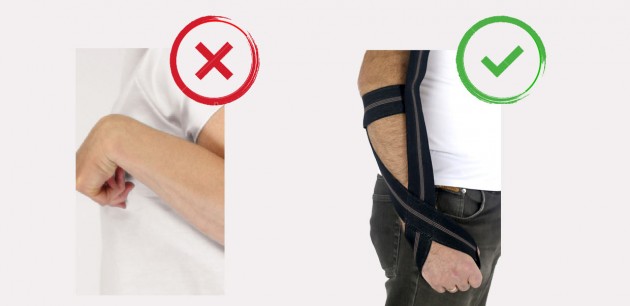 Our STROKE orthosis consists of the following parts:
1. 1. Non-elastic, resistant, durable and made of polyamide straps that are easy to clean
2. Orthopaedic rubber
3. Polyamide buckles
4. Hand handle
5. Locking Tab, made of aircraft grade, hot covered by powder dye aluminum. It is lightweight, rigid and sweat resistant.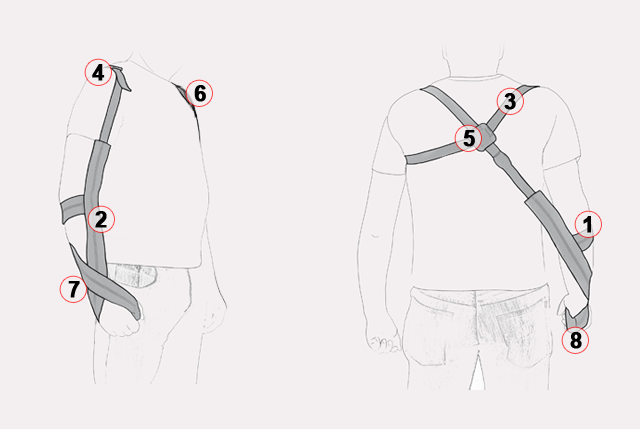 1. Elbow strap:
- elbow position control,
- reducing shoulder subluxation by arm support,
- arm protected by keeping it in adduction.
2. Arm strap:
- dynamic compressive forces through wrist, elbow and shoulder,
- arm movement control,
- protection of arm against the involuntary abduction,
- reduced risk of over-tightening (impingement).
3. Shoulder harness:
- figure 8 shape,
- improvement of body posture (providing thoracic extension, scapular retraction, and scapular depression).
4. Anterior and posterior polyamide buckles:
- shoulder subluxation reduction,
- maintaining shoulder in neutral rotation.
5. Locking tab:
- maintaining shoulder harness in proper position,
- made of aircraft grade, lightweight aluminum,
- hot covered by powder dye aluminum,
- fast and easy control of upper limb's position: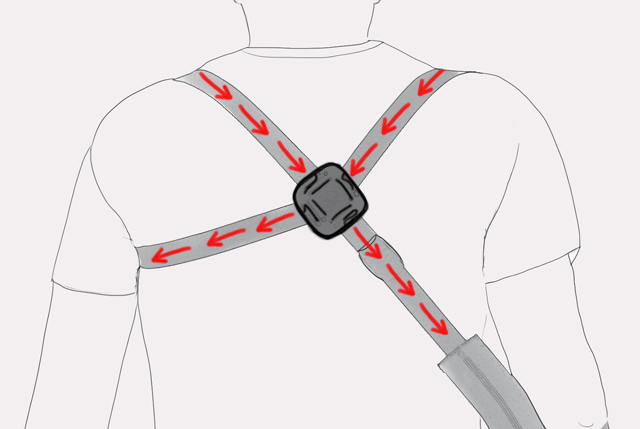 6. Axillary pads:
- reduction of pressure on underarm,
- improving comfort of use.
7. Wrist cross:
- maintaining arm in proper position,
- maintaining wrist in neutral position.
8. Hand handle:
- oval shape – maintaining open web space and providing cylindrical grips of hand,
- initial support of arm in reducing shoulder subluxation.
Positioning strap orthosis STROKE is the most effective device for flaccid arm treatment after stroke. Research has proven that a properly fitted positioning strap orthosis is the best appliance for reducing shoulder subluxation and improving gait. Furthermore, STROKE orthosis prevents upper limb against the post stroke spasticity.
What kind of advantages our STROKE orthosis brings?
Reduces
shoulder pain
Maintains arm in neutral position
Reduces shoulder subluxation
Improves gait
Increases balance
Provides patients self-care, easy application
Purpose of use
- stroke
- brain injury
- brachial plexus injury
- amyotrophic lateral sclerosis (ALS)
- transverse myelitis
- central cord syndrome
- post polio syndrome
- other neurological conditions
Available sizes
Size
Patient's weight
Patient's height (A)
How to take measure
S
45-63 kg
(99-139 lb)
152-160 cm
(59,8″-63″)
M
60-83 kg
(132-183 lb)
160,5 – 178 cm
(63,2″-70″)
L
81-106 kg
(179-234 lb)
178,5 – 193 cm
(70,3″-76″)
XL
Above 106 kg
(Above 234 lb)
Above 193 cm
(Above 76″)
ATTENTION! If Height Range and Weight Range recommend different sizes, look at where the user carries their weight to select the proper size sling. If the weight is carried higher on the body (torso/shoulders), give priority to the "WEIGHT" recommended size. If the weight is carried lower on the body (stomach/hips), give priority to the "HEIGHT" recommended size
Shipping costs The price does not include any possible payment costs
Product reviews (0)