€11.66 €4.17
Close High Abdominal Belt
€13.00 €4.17
Pelvic Belt For Diastasis Symphysis Pubis - DSP
Description
PELVIC BELT FOR DIASTASIS SYMPHYSIS PUBIS (DSP)
Pelvic pain and diastasis symphysis pubis (DSP)
Women with symphysis pubis and posterior pelvis dysfunction have a lot of difficulties, decreasing their quality of life, during pregnancy. The pain id different: it may be mild or severe and it depends on the intensity. It's unilateral or bilateral and can be located in the groin and medial aspect of thigh. Together with groin pain, the women can feel sacroiliac, low back and subprapubic pain. It's worst during weight-bearing activities such as lifting one leg.
The most important factor of pelvic (sacroiliac joints) and symphysis pubic pain during pregnancy is instability of the pelvic girdle.
Rigid pelvic belt such as AM-PES-05 stabilizes the pelvis and reduces the pain significantly in the pelvic and symphysis pubis area.
Product description
Our pelvic brace AM-PES-05 is made of special polyester tape with high durability. The belt is equipped with 2 plastic pads with soft, off-loading cushions.
The pads can be adjusted in any place of the tape.

Pelvic belt AM-PES-05 is rigid what allows to stabilize pelvic in the frontal and sagittal plane perfectly. Increasing of the reproductive or maternal hormones causes the loosing of ligaments and other soft tissues what results in poor posture of pregnant women.
POSTURE DURING PREGNANCY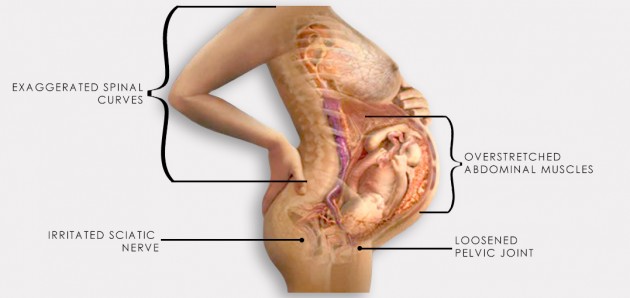 Our pelvic brace AM-PES-05 is made of special polyester tape with high durability. The belt is equipped with 2 plastic pads with soft, off-loading cushions.
Our pelvic belt AM-PES-05 provides stabilization and off-loading of the sacroiliac joints. Also, it stabilizes the symphysis pubis and prevents against the excessive stretching.
AM-PES-05 belt decreases movement at the pelvic what reduces the pain and allows women to exist normally.
To provide the highest possible level of comfort while using AM-PES-05, we equipped it with the set of additional pads. 100% of comfort and protection is the most important thing that we would like to provide to the users of our devices. That is why, the two additional pads, that may be attached to the standard plastic pads, are an ideal protection against potential abrasions. The additional pads are made of very elastic, thick neoprene foam that is one-sided tacky, so that a patient can attach them easily to the standard pads. As a result, a patient, who is using AM-PES-05, is able to adjust the device according to own needs.
The product is made of UniPren™ and Active3D™.
UniPren™ is universal 3-layered fabric made of external elastic polyamide self-gripping layer and internal perforated neoprene foam with elastic jersey. Foam's perforation improves the air circulation and maintains great skin's condition. Our fabric is soft and elastic and not knitted, what prevents skin against the skin abrasions in the compression zones. The braces made of UniPren provide the best stabilization in market. Self-gripping function of UniPren allows to fit the brace precisely. WATERPROOF MATERIAL.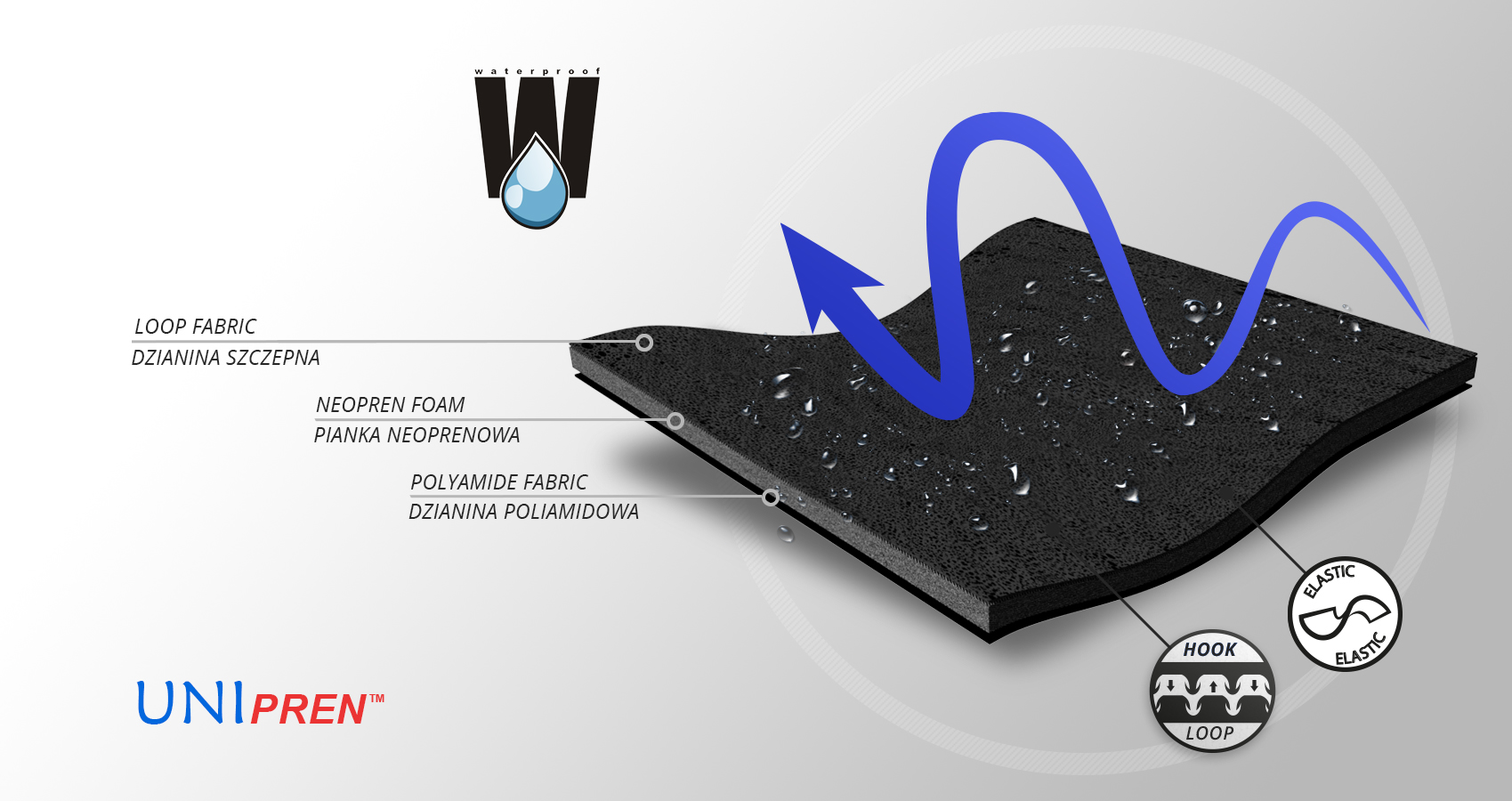 Active3D™ is thermoformed fabric made of special foamed, cell-closed designed material. It reduces the pressure on the body or any abrasions made by orthopaedic stays and aluminum splints. It is fully waterproof fabric and does not absorb sweat. It's easy to clean. Due to its features, the fabric is an excellent product for making medical orthopaedic braces and orthoses. ACTIVE 3D™ has various external self-gripping layers. Our material has special, thermoformed properties and may be shaped according to the functional goals of the final braces.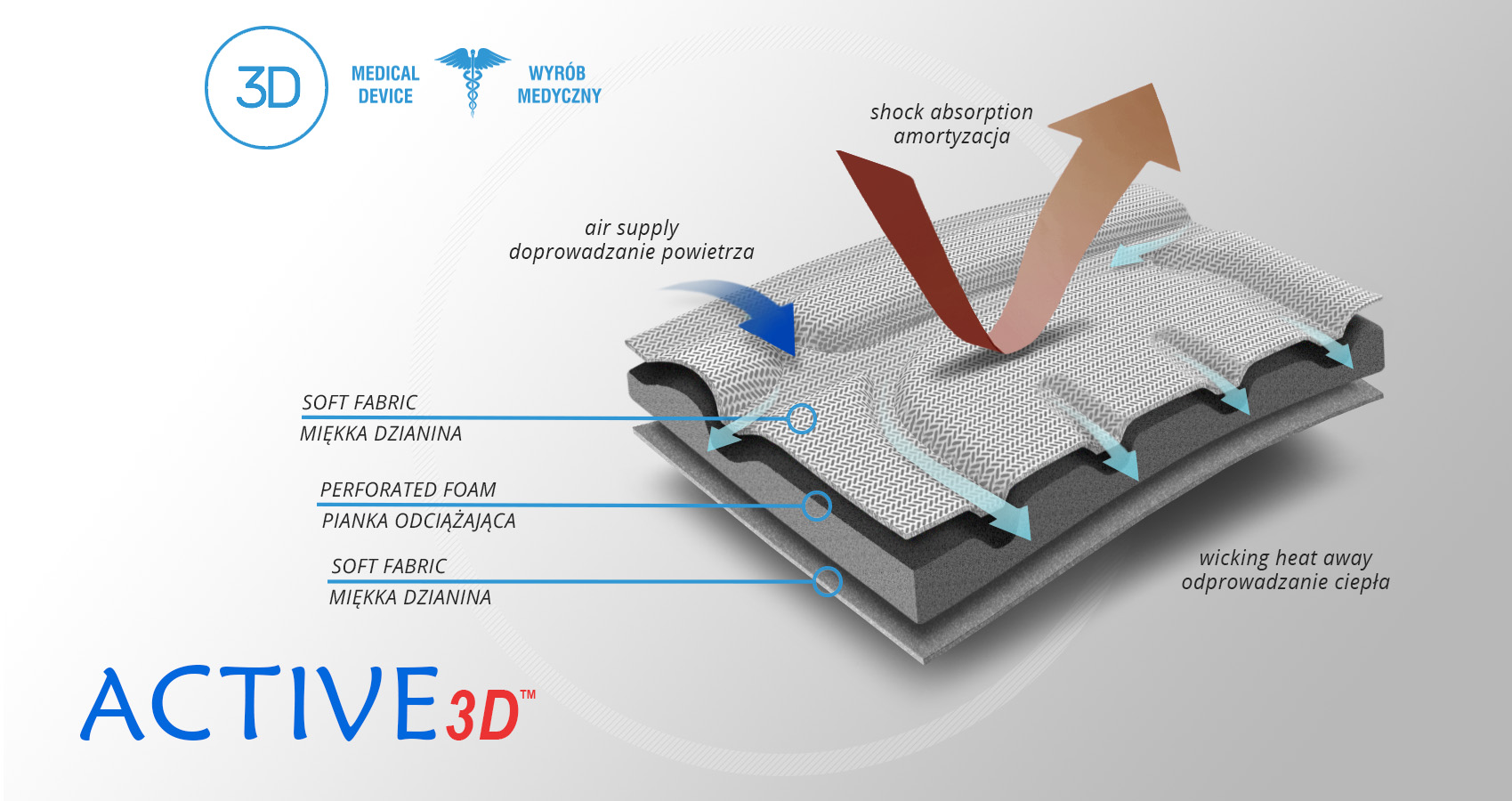 Purpose of use
Diastasis symphysis pubis (DSP)
Painful pelvis
Instability of the pelvis
Sacroiliac joints dysfunction
Overweight (change in the center of gravity)
Loosened pelvic joint
Available sizes
Size
Hip circumference at widest level
How to measure
Single size
min 65 – max 145 cm
(min 25,6″ – max 57,1″)
Total height of the product:
front: 4 cm
rear: 5 cm
side pelottes: 10 cm
Shipping costs The price does not include any possible payment costs
Product reviews (0)