Knee And Hip Orthosis With Rom Adjustment
Availability:
OUT OF STOCK
Description
KNEE AND HIP ORTHOSIS WITH ROM ADJUSTMENT
Flaccid paralysis and paresis
Peripheral nervous system injury may result in flaccid paralysis and deep sensibility disorders. The reason can be infantile paralysis (poliomyelitis), injuries (spine crash or fracture), toxins (alcohol, diabetes) and degeneration conditions.
Poor myotonus (muscle weakness) is typical symptom of peripheral paresis. Disease of peripheral nerves and muscles are characterized by, together with flaccid paralysis, fast and big myatrophy (denervation).
We created knee and hip orthosis OKD-14 for patients who have problems with lower limb stabilization and correct muscles work.
Product description
Knee and hip orthosis OKD-14 with ROM adjustment is comprised of soft hip part and long knee brace. It's made of Active Distance and ActivDistance II.
Active Distance is non-elastic, soft, supporting material. It's easy to attach what allows to adjust of circumferential.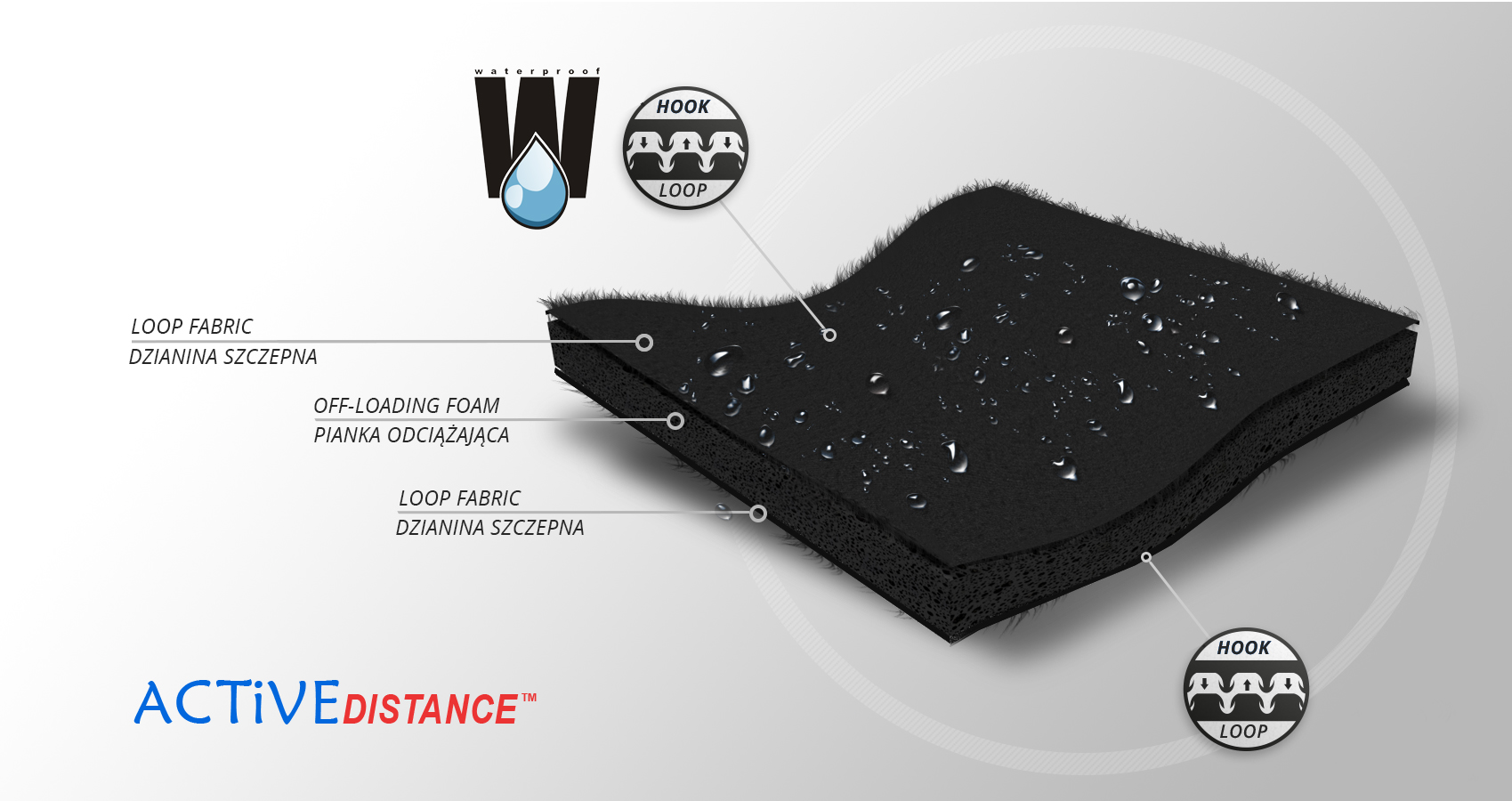 ActiveDistance™ is an technical off-loading lamination with 3-layered construction. It's made of EVA foam double-sided laminated with non-elastic polyamide layer that is easy to attach. This self-gripping function of ActiveDistance™ provides wide range of adjustment and perfect fitting. What is important, ActiveDistance™ is non-elastic fabric so it stabilizes your body in a perfect way. Thanks to using the comfort foam, the device is really soft what influences on the comfort of using it. Waterproof material.
In addition, hip brace has drop-lock with ROM adjustment in every 15 degrees. Also, our 1RE splint is 1-axial splint with hypertension control – capability to adjust 15 and 30 degrees of extension. Our lightweight splints are made of high quality aluminium with carbon fibres and provide excellent stabilization.
The second material used in lower limb brace is ACTIVdistance II.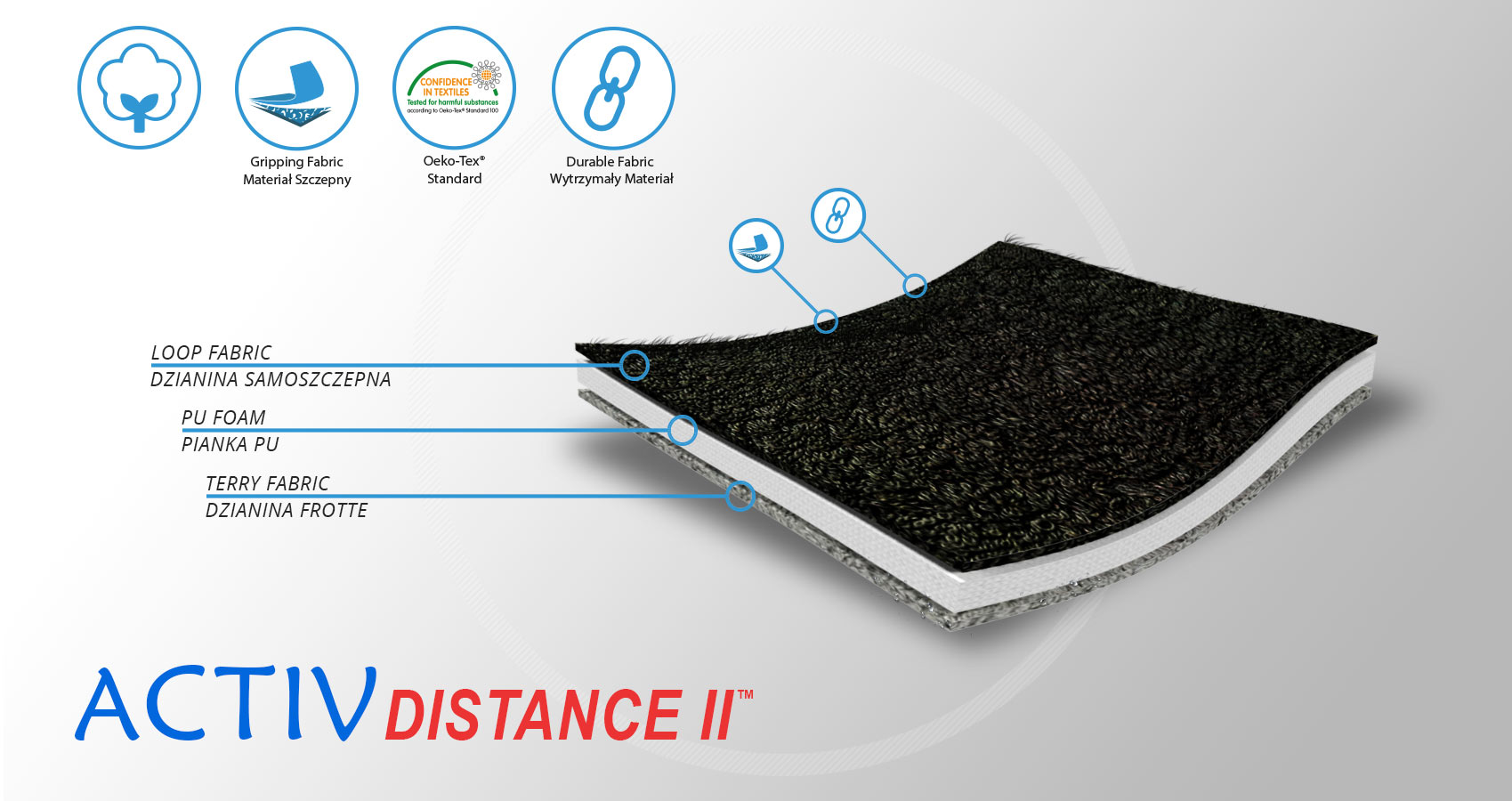 ActivDistance II™ is an active 3-layered fabric made of non-elastic polyamide self-gripping layer, comfort foam and cotton terry. The last one layer is responsible for maintaining your skin dry. This material is skin-friendly and has the Oeko-Tex Standard 100 certificate. Self-gripping function of ActivDistance II™ allows to fit the braces precisely.
The internal side of brace is covered by cotton skin-friendly layer with Oeco-Tex Standard 100 certification.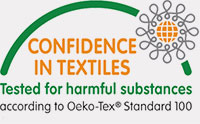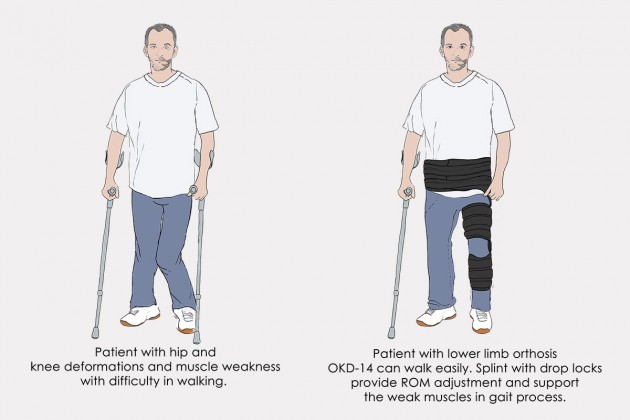 Knee brace is equipped with six circumferential straps and splint 2R or 1RE.
Range of motion can be controlled in 20 degree (2R) and in 15 degree (1RE) increments. Every drop-lock can be stopped in the required range.
The materials are soft but non-elastic. This "stiffness" provides excellent fit and stabilization.
OKD-14 lower limb orthosis can replace traditional orthopaedics plastic splints. Our orthosis is very comfortable and doesn't cause bedsores or skin lesions.
OKD-14 supports and stabilizes knee and hip joints and provide po-op control. It supports the hip and knee in walk therapy. OKD-14 controls the range of motion in joints and prevents against the contractures.
The OKD-14 orthosis is one-sided in standard. We can make double orthosis (for right and left side together) if it is necessary.
One-sided lower limb brace OKD-14 is used in case of:
severe knee and hip instability and degeneration disorders
lower limb paresis – in walk therapy
after severe knee and hip surgeries where immobilization is necessary
prevention and treatment of contractures
posture control in rehabilitation
Double lower limb brace OKD-14 is used in case of:
flaccid paralysis
myelocystocele
spinal muscular atrophy
muscular dystrophy of lower limbs
Available sizes
Size
Waist circumference
How to measure
Single size
min 75 cm – max 125 cm
(min 29,5″ – max 49,2″)
Size
(A) Thigh circumference 15 cm above the patellacircumference 15 cm above the patella
(B) Calf circumference 15 cm below the patella
(C) Distance between knee joint interstice and groin
How to take measure
S
min 40 cm – max 75 cm
(min 15,7″ – 29,5″)
min 30 cm – max 55 cm
(min 11,8″ – max 21,6″)
27 cm – 37 cm
(10,6″ – 14,5″)
M
33 cm – 43 cm
(13″-16,9″)
L
36 cm – 46 cm
(14,2″ – 18,1″)
left/right side available
Maximum user weight up to 75kg.
Shipping costs The price does not include any possible payment costs
Product reviews (0)