Close High Abdominal Belt
€13.00 €4.17
€11.66 €4.17
Hip Orthosis With Split 1RE
Description
VIPER
HIP ORTHOSIS WITH SPLINT 1RE
Product description
Immobilizes or controls the pelvis joint, equipped with pelvis frame, thigh band and lateral splint 1RE with adjustment of the flection and extension angle every 15 degrees. The brace assures correct positioning of the pelvis during upright standing and learning to walk, prevents and helps in treatment of contractions. Use: in early rehabilitation, during learning to walk after surgery treatment of the pelvis joint, in treatment of patients with contractions of pelvis joint due to neurological or orthopedic problems.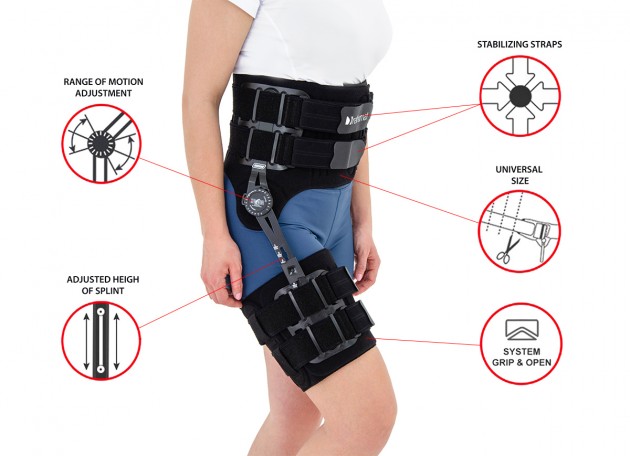 The brace is made of comfort thermoformated foam Active3D™. It reduces the pressure on the bones prominences and increases the comfort of use.
ACTIVE 3D™ is thermoformed fabric made of special foamed, cell-closed designed material. It reduces the pressure on the body or any abrasions made by orthopaedic stays and aluminum splints. It is fully waterproof fabric and does not absorb sweat. It's easy to clean. Due to its features, the fabric is an excellent product for making medical orthopaedic braces and orthoses. ACTIVE 3D™ has various external self-gripping layers. Our material has special, thermoformed properties and may be shaped according to the functional goals of the final braces.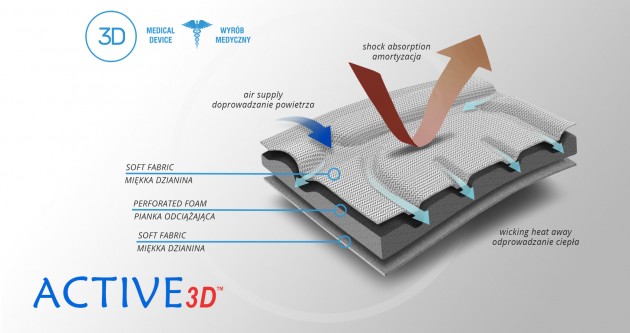 The element of the lap belt which is used to adjust the circumference made of ActiveDistance™. It is an technical off-loading lamination with 3-layered construction. It's made of EVA foam double-sided laminated with polyamide layer that is easy to attach. This self-gripping function of ActiveDistance™ provides wide range of adjustment and perfect fitting. Waterproof material.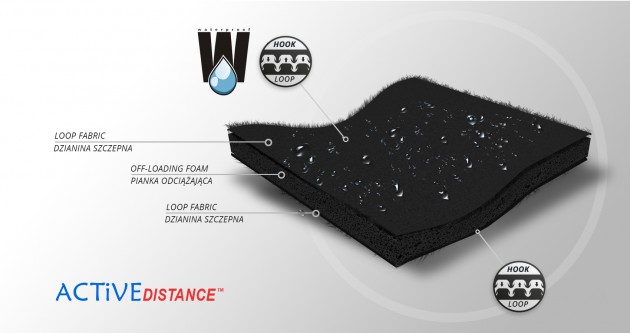 Properties
- the support assures correct positioning of the hip during upright standing and learning to walk. It prevents contractures and helps healing them. It enables controlled movement of the hip joint. Instruction of use is given by the leading doctor.
Purpose of use
- In early rehabilitation and during learing towalk in case of patients after the hip surgery treatment
- In rehabilitation of patients with contracture of the hip joint due to the neurological or orthopaedic reasons
Available sizes
Size
Waist circumference
How to measure
UNIVERSAL
75 – 125 cm
(29,5″ – 49,2″)
Left/right available
Maximum user weight up to 75kg.
Total length of product:
min: 53 cm (20,9″)
max: 67 cm (26,4″)
Splints 1RE
Splints 1RE – single axis orthopedic splints, used mainly in knee joint, upper limb and hip joint braces. The characteristic quality of this splint is, apart from wide range of motion adjustment in every 15 degrees, is also hyperextension adjustment in the secured range of -15 and -30 degrees. The splints are characterized by perfect lateral joint stabilization and low weight. The set-up of the angle adjustment clock doesn't require any tools, and special safety system prevents the change of the angle by unauthorized people. The splints are made of high quality aluminium alloy and plastic with carbon fibre. They are light and neutral to the influence of sweat and salt, properly firm, assuring correct functioning of the device. Standard length of the splints is: 380, 470 and 530 mm. The splint and its design are patented in European Union by Reh4Mat company.

MiniMax principle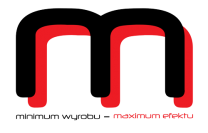 MiniMax is the first principle of REH4MAT that focuses on maximum effect in minimum device. Designing of our braces, we focus heavily on their effectiveness where, aside from functionality, the size of braces is significant. Unique constructions of our devices provide maximum safety and protection with little sizes. It allows to use comfortably our braces in sport shoes or under clothes.
Shipping costs The price does not include any possible payment costs
Product reviews (0)