Close High Abdominal Belt
€13.00 €4.17
€11.66 €4.17
Elbow Immobilizer With Adjustable Rom
Description
ELBOW IMMOBILIZER WITH ADJUSTABLE ROM
Product description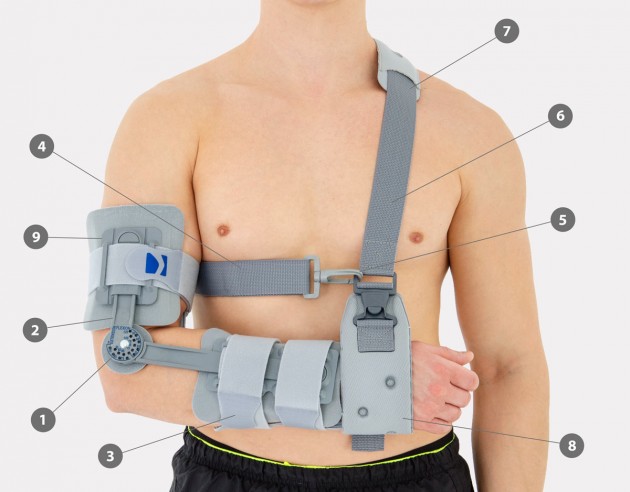 | | | |
| --- | --- | --- |
| 1 | | 1R drop-lock with adjustment of range of motion in every 15 degrees. |
| 2 | | Unicentric splints made of lightweight high quality plastic with carbon fibres. |
| 3 | | Wrap around straps with Velcro closures. |
| 4 | | Chest belt for keeping the arm in adduction. |
| 5 | | Many buckles for easy application. |
| 6 | | Adjustable shoulder strap for perfect fitting. |
| 7 | | Shoulder pad which does not irritate the shoulder and neck. |
| 8 | | Forearm strap keeps the wrist in neutral position and prevents against the degeneration. |
| 9 | | Thermoformed parts for reducing the pressure of the hard elements. |
ActivDistance II™ is an active 3-layered fabric made of non-elastic polyamide self-gripping layer, comfort foam and cotton terry. The last one layer is responsible for maintaining your skin dry. This material is skin-friendly and has the Oeko-Tex Standard 100 certificate. Self-gripping function of ActivDistance II™ allows to fit the braces precisely.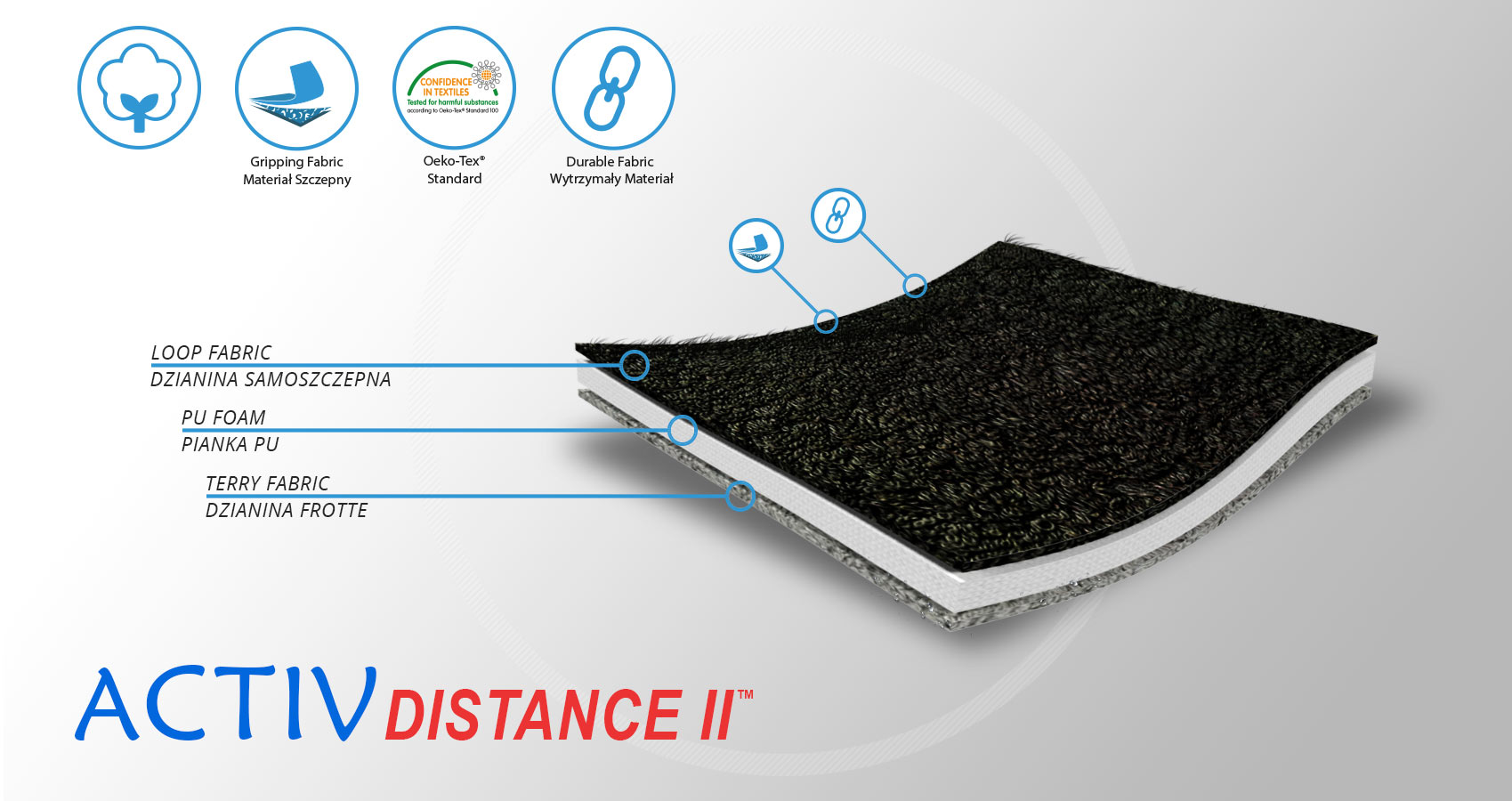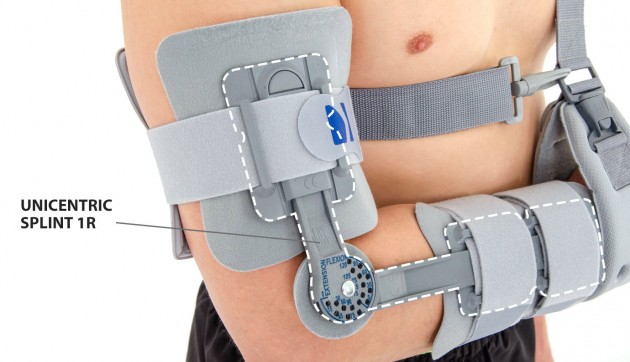 Purpose of use
Stable fractures in elbow, humerus and forearm area,
Chronic elbow injuries,
Elbow hyperextension,
Range of motion control,
Tendons and ligaments injuries and repairs
Available sizes
Size
The length from the lateral epicondyle of the humerus to the wrist
How to measure
S
17-22 cm
(6,7″-8,7″)
M
22,5-27 cm
(8,9″-10,7″)
L
27,5 cm (10,8″) and more
Size
Arm circumference 6 cm above the center of the elbow (A)
Forearm circumference 6 cm below the center of the elbow (B)
How to measure
Single size
min 22 cm – max 44 cm
(min 8,7″ – max 17,3″)
min 22 cm – max 36 cm
(min 8,7″ – max 14,2″)
Universal product for right and left hand
Total length of the product: 37 cm (14.6″)
Splints 1R
1R splints – single axis orthopedic splints used in all knee joint and upper limb braces, where apart from adjustment of the flection and extension angle, high lateral stabilization of the joint is not required, but important if low weight of the brace. Due to the low weight the splints are successfully used in all braced for children. They are manufactured with high quality plastic with carbon fibre, making the splints light and indifferent to the influence of sweat and salt, properly firm therefore assuring correct functioning of the device. Adjustment of the flection and extension angle is performed with special Allen screw, by every 15 degrees – each brace is equipped with a key necessary for adjustment. Standard length of the braces is: 250, 280, 380, 470 and 530 mm. The splint and its design are patented in European Union by our company.

Shipping costs The price does not include any possible payment costs
Product reviews (0)