€11.66 €4.17
Close High Abdominal Belt
€13.00 €4.17
Dynamic Functional Resting Splint
Description
DYNAMIC FUNCTIONAL RESTING SPLINT
Spastic hand is a result from the loss of inhibition of motor neurons from central nervous system (CNS). It causes excessive muscle contraction due to gentle impulse such as soft touch. Spasticity is very often a result from cerebral palsy (CP), stroke or injuries. Treatment is very difficult and based on reducing the muscle tension. Apart of pharmacology and physical therapy, the passive treatment by dynamic functional resting splint. It works by positioning the hand in the required position and stopping the progress of disease.
Product description
Dynamic functional resting splint with thumb was designed to be fully adjustable and universal – so a patient may wear it either on the left or the right hand. Thanks to that solution, the brace has begun more universal brace what is a really important factor for most of the medical shops (they can decrease their stocks volume up to 50 per cent).
With the rehabilitation, wrist and hand sections of AM-OSN-L-06 wrist splint, can be contoured by hand to progressively position the hand from a flexed position to a functional position. Thumb can be positioned from mid-range opposition to abduction. For optimal fit and comfort, forearm section is fully moldable that increases fitting and stabilization.

Optionally, the brace AM-OSN-L-06 resting splint may be use with the standard or neuro-rheumathological fingers separator. Thanks to such a construction, the device stabilizes fingers as well as wrist better. The fastening system to the upper limb is very easy – it is based on a wide spiral tape of a hand and a forearm and a thin tape that helps to stabilize a thumb. Due to the wide range of motion, it is possible to adjust the brace to the limb without any problems. Per customer request (extra price), the standard separator may be substituted for neurological separator which stabilizes each finger separately. The brace was designed in a complicated and specific way.
The frame was made of a high quality aluminium (that may be characterized by different levels of plasticity). Then, it was connected to special support rods. Later the construction was double-sided laminated with soft foam. Additionally, the brace was equipped with tacky function that makes it easy to adjust and place the tapes as well as the separator.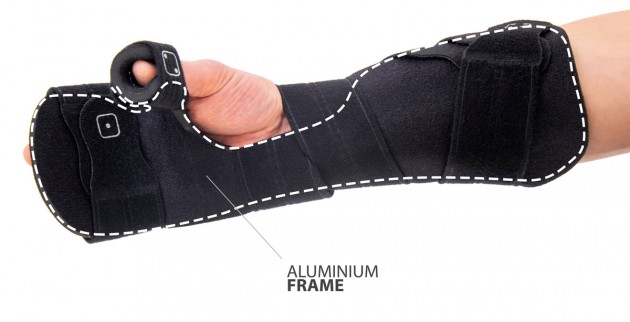 Our forearm brace's advantage is its universality – it is suitable for both right as well as left hand.
The innovative character of our device is that it is possible to fully adjust it to the forearm shape without any additional devices or warmth.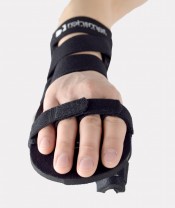 In addition, for this brace you can purchase special neuro-rheumathological fingers separator. It provides proper position of fingers and maintains optimal abduction of the proximal phalanxes in case of neurological or rheumatological disorders. When the spasticity occurs, the separator prevents the fingers against the excessive "squeezing". In case of Swan-Neck Deformity in Rheumatoid Arthritis (RA), the device construction with special fastening, correct the fingers from ulnar to neutral position. Maintaining of the optimal neutral hand position allows to stop the process of neurological or degeneration diseases.
The brace is made of waterproof fabric UniPren™.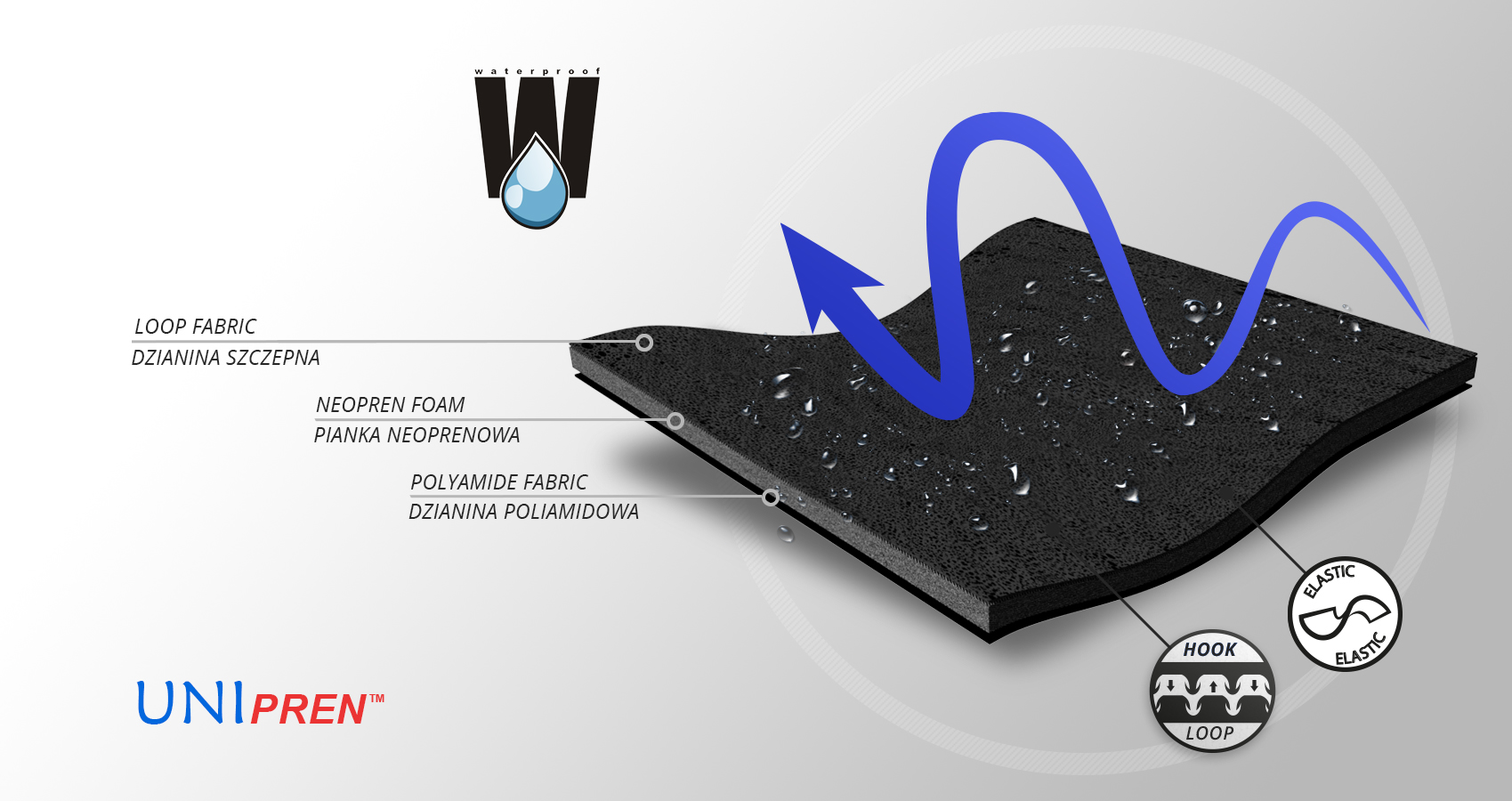 UniPren™ is universal 3-layered fabric made of external elastic polyamide self-gripping layer and internal perforated neoprene foam with elastic jersey. Foam's perforation improves the air circulation and maintains great skin's condition. Our fabric is soft and elastic and not knitted, what prevents skin against the skin abrasions in the compression zones. The braces made of UniPren provide the best stabilization in market. Self-gripping function of UniPren allows to fit the brace precisely. WATERPROOF MATERIAL.
Purpose of use
- hand weakness
- mild to moderate hand spasticity
- rheumatoid arthritis (RA)
Available sizes
Size
Wrist circumference
How to measure
XS
11-13 cm
(4,3″-5,1″)
S
13,5-15 cm
(5,1″-5,9″)
M
15,5-17 cm
(6,1″-6,7″)
L
17,5-19 cm
(6,9″-7,5″)
Total length of product: 38 cm (15″)
Shipping costs The price does not include any possible payment costs
Product reviews (0)